Eleanor Turner is a multi-faceted artist. She is an international soloist (noteworthy venues include London's Wigmore Hall and the Muziekgebouw in Amsterdam) and has made a name for herself both as a classical artist and an electronic musician, performing her own spatial sound composition for electro harp and MyoSpat gesture-controlled technology at the International Computer Music Conference in Shanghai.
Eleanor is also a busy chamber musician (Berlin Philharmonie, Queen Elizabeth Hall, Royal Albert Hall, festivals across Europe) and concerto soloist (Academy of St Martin in the Fields, English Baroque Ensemble, Louisiana Philharmonic Orchestra, Utrecht Conservatorium Symphony Orchestra) and her groups include Tala Tarang Harp and Tabla Duo, Ranagri alt folk band, Aquilae Flute and Harp Duo, 4 Girls 4 Harps and the Harborough Collective. She even makes time for regular performances with the Orchestra of the Swan, both at the front of the orchestra and within.
Eleanor takes her teaching career very seriously and has nurtured students from early stages through to professional careers, namely co-author on her Teachable site, Elizabeth Bass. Eleanor is a Visiting Tutor at the University of Birmingham, Durham University, Royal Birmingham Conservatoire, York University and has given occasional classes at the Royal College of Music and the Guildhall School of Music and Drama.
Eleanor is particularly grateful for the mentorship of American composer, conductor and harpist Deborah Henson-Conant, for inspiration and one-on-one tuition on her concerto and other pieces. Thanks must go to Camac Harps for facilitating a particularly meaningful week of work in 2010. Eleanor is also indebted to 18th Century piano and organ specialist Douglas Hollick for many hours of friendship and connection over square pianos, clavichords, early harps and 19th century pianofortes and Erard double action harps. Long term tuition in Eleanor's most formative years was from Alison Nicholls, to whom Eleanor feel she owes her ability to listen to herself and who patiently refocused her technique and attitude towards the instrument at a critical time. When Eleanor was a child, she received excellent and thorough tuition from Daphne Boden at the Royal College of Music Junior Department; a time of inspiration, support and encouragement that saw Eleanor gaining a place in first the National Children's Orchestra, then National Youth Orchestra, reach the finals of the Audi Junior Musician and gain much valuable experience.
Further tuition happened as a result of winning a Wingate Scholarship and other wonderful financial awards. Support from the Salvi Harps family was absolutely vital and ensured Eleanor's international career - something for which she remains indebted to Salvi and still loves to play her Salvi Harps, a Diana acoustic concert grand and her Echo electro-acoustic.
Eleanor won the European Harp Competition in 2007 and went on to also gain Second Prize in the 2011 International Gaudeamus Interpreters Competition for contemporary music and Third Prize and the Peutz Audience Award at the Dutch Harp Festival 2010. There have been numerous other awards and accolades for which Eleanor worked tirelessly to win. She is therefore excellently placed to help you in your own journey, whether it be self-discovery, musical progress for its own sake or the desire to compete nationally or internationally. She would be delighted to hear from any committed and enthusiastic harpist with a view to giving advice, so please do get in touch! [email protected]
The cost of a coaching session with Eleanor is £50.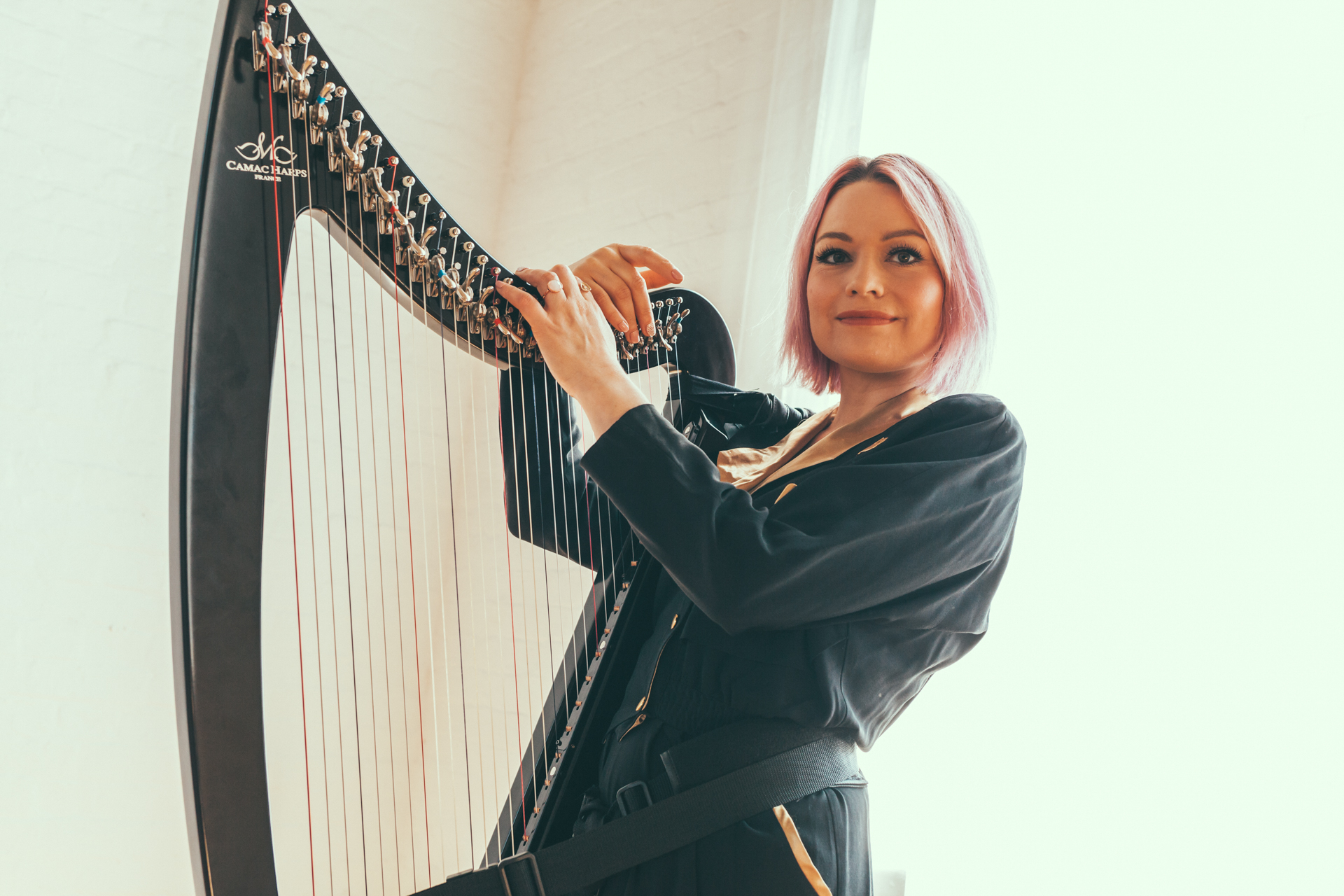 Eleanor Turner - Harpist and Composer
I'm Eleanor and I am a harpist and composer. I write music primarily for harp, including electronic compositions. I studied composition and my commissions include from PRS Foundation for New Music, Sound and Music, Help Musicians and writing score for Ballet Wales.
As a harpist, I now divide my time between teaching, recording (Decca, Naxos, Champs Hill, Signum Classics, Nonesuch Records, Twisted Heart Records, Future Rebel and my own label, Arts In Fusion to name but a few) and giving performances with my groups and as a soloist in the UK and abroad, from Sydney to Hong Kong. I would be delighted to share my time and expertise with you so please don't delay, drop me an email TODAY!
Thanks for submitting your information! Please continue with the checkout process.
Frequently Asked Questions
Can I get a refund if I'm unhappy with my purchase?
Yes. If you are unsatisfied with your coaching, reach out to us to see if your purchase is eligible for a refund.
As stated in Teachable's Terms of Use, Coaching IS NOT covered by Teachable's 30-day student refund policy. However, I have my own refund policy and if I am not well placed to coach you or if my coaching has not met the mark, I will refund at least half of the fee to you with no need for further discussion. I aim to be of honest help and guidance to all students and aim to educate and motivate you to the best of my ability.
How do I schedule my appointment?
Upon purchasing coaching, you'll receive further instructions from Eleanor on how to book a mutually convenient time for your appointment. Feel free to suggest a few options from 'your end' to get the ball rolling!
Can I purchase coaching more than once?
Absolutely! If you find yourself in need of coaching more than once, simply purchase the coaching again.